How It Started
Seven years ago, I began teaching myself how to sew, using an Elna Super from the 1960's that once belonged to my mother, Roberta. Mom used it to sew clothes, curtains, and a few random items over the years. She taught me how to sew little sachet bags as gifts for friends, as well as a little tampon pouch that was the precursor to the In the Red tampon pouches you can find in the shop.
For many years, the Elna sat unused, along with lots of fabric and notions. After Mom died, it took me a few years to work up the courage to finally begin sewing – and once I started, I was hooked. It didn't take me long to begin coming up with my own patterns and creating them.
In addition to the Elna Super, I sew with a Brother HE120 that Mom purchased for its embroidery features, but never used. The Brother also runs beautifully, but is way more electronics-driven than the Elna. I recently acquired a Bernina DCET 2500 serger from a friend, so that machine will make its way into the lineup once I get comfortable using it.
One of Mom's nicknames growing up was Birdie, hence the name of the shop. She is the original "busy birdie", who loved fabric stores and collected sewing supplies & notions that I still use today. Busy Birdies Studio wouldn't exist without her.
Corinne, Owner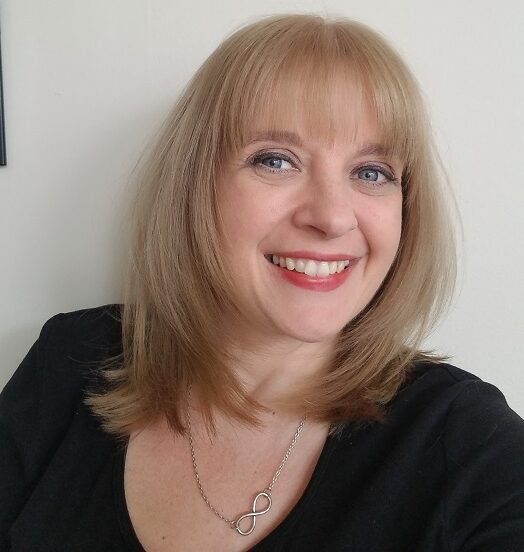 What We Sell
All Busy Birdies Studio products are handcrafted by me. Several products are my own creation, based on patterns I found and modified for my own use.
A majority of Busy Birdies Studio products are made using vintage, repurposed and/or upcycled fabrics and notions (zippers, buttons, snaps). These materials come from the stash I inherited from my mom, as well as from friends & family members.
Products fall under one or more categories:
Home
items for the home and kitchen, such as placemats, napkins and aprons (coming soon)
Mind
accessories for office or school, such as notebook covers and desk/bag organizers
Body
accessories for personal use, such as the In the Red pouches, zip pouches, bags and totes
Spirit
items that work with and support personal growth & development (coming soon)
The Product Lines and Names
The Legacy product line features products named for women on on both sides of my family to honor their legacy. A photo and brief bio for the product's namesake is available on every product listing. I focus on using vintage and repurposed or upcycled fabrics for Legacy products.
The Nest is where you'll find product prototypes, slightly imperfect items, and other handsewn products that didn't make the regular lineup due to high production or material costs. These items are one-offs, so stock is limited. All sales from the Nest are final.
The In the Red product line includes menstrual product pouches in varying sizes to accommodate tampons, maxipads, or liners. These pouches are designed to discreetly and securely carry menstrual products in all-inclusive patterns and colors. My goal is to offer practical, useful In the Red pouches to anyone who menstruates, regardless of their gender identity. 10% of all proceeds from In the Red sales are donated to Planned Parenthood in support of reproductive health education.
---
What customers are saying about Busy Birdies Studio products